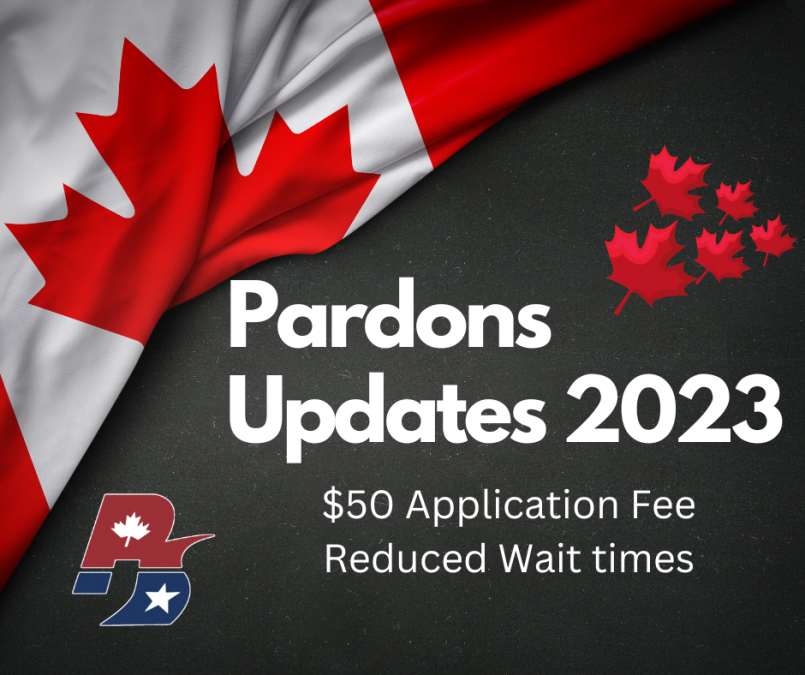 Canadian pardons and record suspensions have seen numerous changes over the past year. The good thing is that all these changes have made pardons more accessible, meaning more people will be eligible for pardons earlier and at less financial cost. This is important because sealing a criminal record gives deserving people back the opportunities they once had for employment, education, and travel that they lost.
$50 Record Suspension Pardon Application Fee
On January 1, 2022, the Liberal Federal Government reduced the pardon applications free from $631 to just $50. Overall, this dramatically reduces the cost of a pardon by at least 40% when you consider the additional costs of court fees, fingerprinting and our processing fees. Pardons have not been this financially accessible in 20 years.
As a point of interest, $50 was the original Canadian pardon fee of the from 1995 to 2010 when the Conservative Government increased it to $150. After that in 2012 a Manitoban, the Honourable Vic Toews, Minister of Public Safety, raised it to $631 making the cost of a pardon a significant expense and what many considered a barrier to full re-integration into society.[filler for post leave out]
Pardon Eligibility & Pardon Wait Times
When it comes to pardon eligibility the vast majority of offenses are pardonable. For every offense there is a waiting period before a pardon (record suspension) can be applied for. Depending on the severity of offense there will be a shorter or longer waiting time associated with it. In addition to this waiting period all sentencing requirements must also be satisfied. Sentencing requirements could include fines, restitution, community service and/or counseling programs be successfully completed.
Pardon applications are now being processed using the CRA eligibility criteria in place at the time of an applicant's first offence. There are three possible time frames:
First Offence occurred before 2010 – eligible for a pardon provided you have waited 5 years since your last indictable offence and 3 years since your last summary offence.
First Offence occurred before June 29, 2010 and March 12, 2012 – this is a bit complicated. Lesser offences, those that punishable by summary convictions require a 5-year waiting period since the last offence. Indictable crimes will carry either a 5- or 10-year waiting period. The primary difference being that a sentence of 2 years plus a day or violent crimes will carry the 10-year waiting period.
First Offence occurred after March 13th, 2012 – Lesser offences punishable by summary convictions require a 5-year waiting period. Indictable crimes will carry a 10-year waiting period.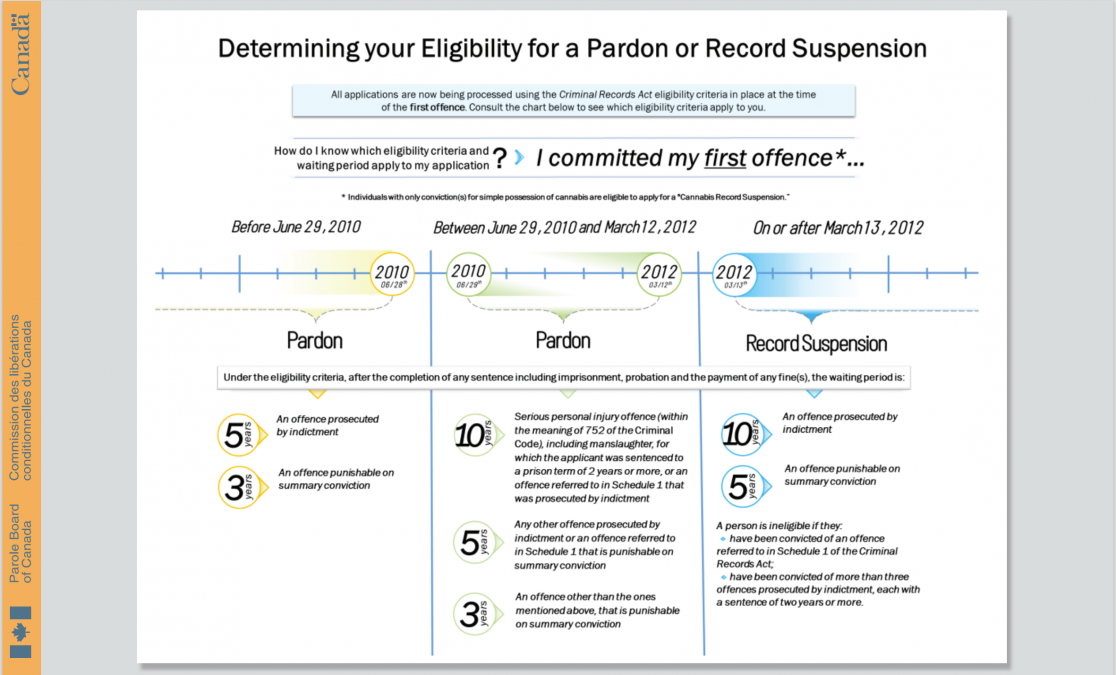 Examples of Summary Offences vs. Indictable Offences
Summary offences are the offences deemed to be less serious and do not involve bodily harm. On of the most common examples is DUI/DWI where 95% are summary offences provided, they do not cause bodily harm. Simple drug possession regardless of the type of drug are always summary offences as are small dollar value thefts. Larger dollar value thefts can become indictable and the same is generally true of fraud where the amount will dictate whether it is a summary of indictable offense. Circling back to drugs, any type of trafficking charge will be, and indictable offense as will be most violence related charges. Some violent charges such as simple assault may be charge as a summary offence. Firearm related charges vary as well depending on the nature and if they are in relation to there use in the commission of another crime.
Any offence carrying a two year plus a day sentence is an indictable offense.
Processing Time For Pardons
Although there is no such thing as a fast pardon because the parole board of Canada takes pardon applications on a first-come first-served basis, there are a lot of things companies do that slow down the process needlessly. A simple pardon should only take 6 to 12 months, but we've had clients come from other companies complaining of avoiding as much as two years and still not getting their pardon completed. We are a one-stop shop as we perform digital and ink fingerprinting and all electronic retrieval of records in house. As a small tight knit family-run business our company has no hold ups in our processing. When our requests for physical court documents come in, they are processed immediately. There is no need to charge extra money for doing the job correctly.
Beware of companies advertising faster a celebrated pardons for an extra fee. They are just taking your money.
About Pardon Services
Pardon services is a small local family run business with a quiet office located on Scurfield Blvd. with plenty of free parking. Mitch Jessiman is a federally licensed immigration consultant holding a RIIC title. He directly speaks with clients and oversees all aspects of the records collection and application process. To speak direct any time, simply call 204-453-0099 or use the contact form on this page. Consultations are confidential and always free of charge.