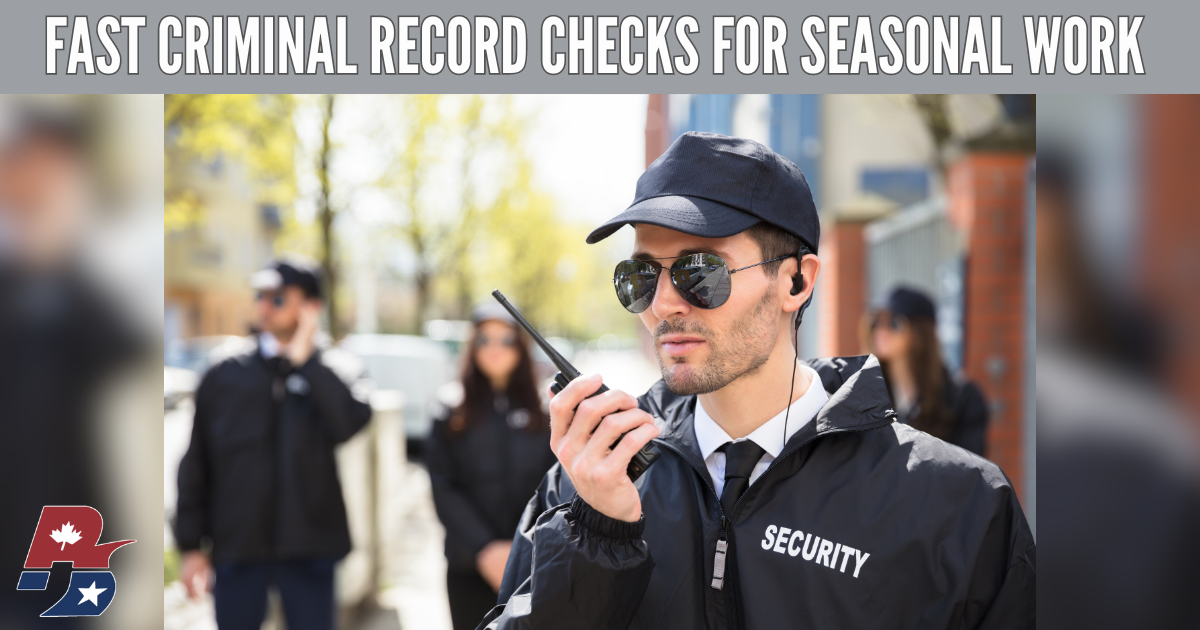 Are you seeking a hassle-free solution for your criminal record check needs? Look no further! Our service offers swift and reliable fingerprint based RCMP certified criminal record checks, ideal for individuals applying for seasonal work opportunities.
Call to book an appointment 1-204-453-0099.
At our accredited fingerprinting agency, we understand the urgency of obtaining your criminal record check, especially when time is of the essence. Here's why you should choose us for your criminal record check requirements:
Swift and Convenient Service
We recognize that time is precious, especially when you're applying for seasonal work. Waiting for weeks or scheduling appointments far in advance should not be a barrier to your opportunities. That's why we offer:
Next Day Appointments: Fast-track your criminal record check process with our next-day appointments, ensuring you receive your results promptly.
Fingerprint-Based Certified Record Checks: Our services provide the same level of quality and certification as those obtained at Winnipeg Police Service or RCMP, ensuring accuracy and reliability.
Flexible Digital and Ink Fingerprint Options: We offer both digital and ink fingerprinting services, catering to your preference and convenience.
Easy Record Check Application Process
Obtaining a Police Information Check shouldn't be complicated. We've streamlined the process for you. Here's what you need to know:
Required Identification: When applying for a criminal record check, you'll need two valid government-issued identifications, one of which must include a photo. Accepted documents include:

Driver's License
Passport
Permanent Residence Card
Manitoba or Provincial Healthcare Card
Birth Certificate
Immigration Papers
Social Insurance Card, and more.

Certified Criminal Record Transcripts: If you require a "certified" transcript of criminal convictions held in the National Repository of Ottawa through the RCMP, your application must include digital fingerprints. We efficiently process your digital fingerprints, forwarding them electronically to Ottawa. The resulting criminal record transcript will be mailed to your home address promptly, ensuring you have the necessary documentation for your seasonal work applications.
Why Choose Us?
Privacy and Accessibility: Enjoy the convenience of our location, featuring free parking and easy access. We pride ourselves on minimal foot traffic, ensuring your privacy during the fingerprinting process.
Expertise and Accreditation: We are an RCMP accredited fingerprinting agency affiliated with Global ID Services, guaranteeing the highest standard of service and accuracy.
Simple Booking Process: To schedule your appointment, simply call us at 1-204-453-0099, Monday to Friday between 9:00 A.M. and 4:30 P.M., or email us at info@pardonservices.ca. Experience the ease of securing your criminal record check without unnecessary delays or hassles.
Don't let administrative hurdles delay your seasonal work opportunities. Choose our efficient, convenient, and professional services to obtain your criminal record check swiftly. Book your appointment today and embark on your seasonal work journey with confidence!
Call to book your record check appointment at 1-204-453-0099.